THE HAPPY WANDERER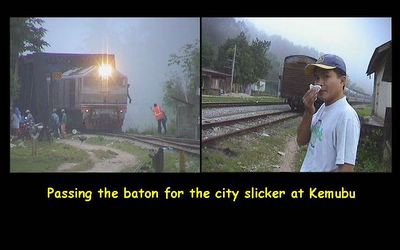 The 'Umpapa' band leader, a P.O.W called 'Friedr. Wilhelm Moller', returned home to Germany and with his wife Edith, published the words and music of the "The Happy Wanderer".
In 1954 at the 'Welsh Eisteddfod' it was chosen and sung by the 'Orbenkirchen Children's Choir.' It proved an instant hit and was recorded by many leading stars among them were 'The Beverley Sisters' on the Phillips record label, 'The Stargazers' on the Decca label.
Ernest James Seldon's daughter Winifred and his son Frederick both said their father had told them he'd written the words and music, although Winifred's son Francis suspects it might have been more of a collaboration between Ernest James and Wilhelm Moller whilst a P.O.W! Ernest James also stated that both 'Edith and Wilhelm Moller' had written to him offering him 'a piece of the action' in the publishing company for £100, unfortunately Ernest did not have that amount of cash to spare when the offer was made!
It was way back in time in Jasin, Malacca, just before the Ludek's transfer to Kelantan, when Abang Bosa was in std 3 and Abang Kocik std 1 at Government English School Jasin (GESJ) when this song became a favourite piece among 'amateur wanderers' when they trudged back on foot from school with books tied in belts on their back happily whistling this song (the English language was just being grappled with then!), imagining that they were big time wanderers trudging their way up Mt Everest. You know after 1953 everybody wanted to be New Zealander Sir Edmund Hillary and Sherpa Tensing Norgay. It was strange that just after WW11 nobody in Jasin knew that this song was written by a German (read Hitler) then. Otherwise for sure nobody would be 'happy' with this 'enemy's' song.
Listen mp3

Sing Along to the Song